Overview
The 'Convert Excel' Power Automate action allows you to convert the following file formats (Input):
xls
xlsx
xltx
xlsb
xlsm
csv
tsv
ods
spreadsheetml
To the following formats (Output):
PDF
XSLX
XLS
HTML
CSV
TIFF
PNG
TXT
Example Flows
Please refer to the following article showcasing the 'Convert Excel' action
Default Parameters
The default 'Convert Excel' flow action parameters are detailed below which are contextually based on the selected Output format:
Output Format: Select the output format: PDF, XSLX, HTML, CSV, TIFF, PNG or TXT.

Filename: The filename (including the file extension) of the file to be converted.
File Content: A Base64 encoded representation of the Excel file to be processed.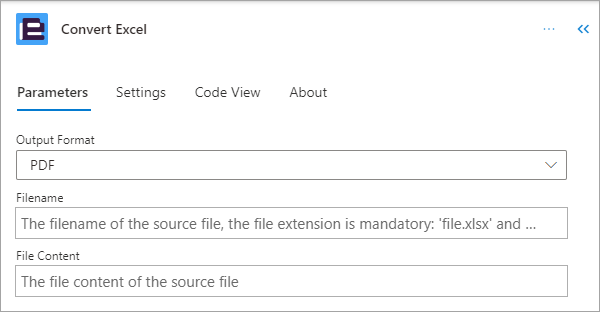 Advanced Parameters
The advanced 'Convert Excel' flow action parameters are detailed below:
All output formats:
Worksheet Name: Specify the name of a worksheet to target for conversion.
One Page Per Sheet: Place all worksheets onto a single page.
All Columns in One Page Per Sheet Name: Include all columns from a single sheet on the same page.
Remove Markup: Sets whether comments and tracked changes should be removed from the document upon conversion.
Culture Name: This setting is used to set the culture for the workbook prior to conversion. Please refer to the Culture Names article for a list of supported cultures.
Output format: PDF:
Generate Bookmarks: Set whether bookmarks should be automatically created.
PDF/A Compliant: Sets whether the resulting document should conform to PDF/A format.
PDF/A Compliance Level: Sets the required level of PDF/A compliance.
Output format: PNG:
Page Index: Set the page within the document to convert to a PNG file. The first page is converted by default.
Output format: TIFF:
Compression: Select a compression algorithm, the default is 'LZW'
Example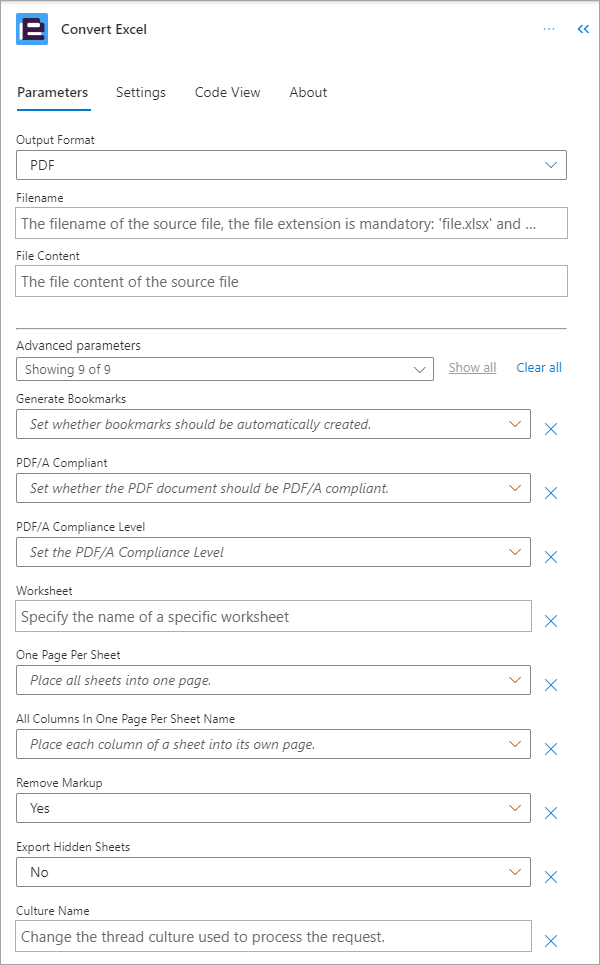 Return Parameters
The 'Convert Excel' flow action returns the following data.
Action Specific Return Values
File Content - The converted file (Base64)
Standard Return Values
OperationId - The unique ID assigned to this operation.
HttpStatusCode - The HTTP Status code for the response.
HttpStatusMessage - The HTTP Status message for the response.
Errors - An array of error messages should an error occur.
Operation Status - Indicates whether the operation has been completed, has been queued or has failed.